Electrical Stimulation In Manhattan and Long Island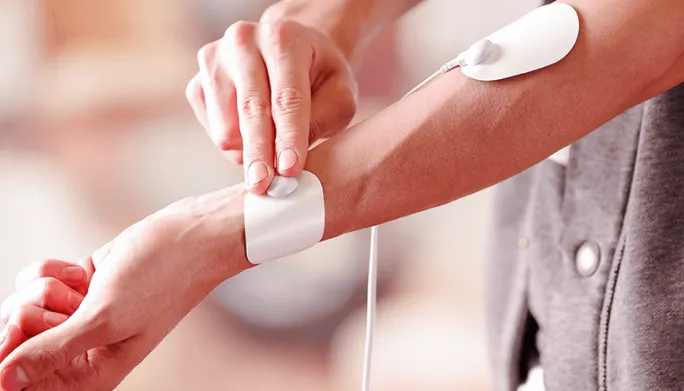 Electrical stimulation (E-stim) has emerged as a groundbreaking approach in the rehabilitation realm. It serves as a cornerstone in enabling patients to regain optimal function post-injury or surgery. Our Occupational Therapist holds a proficient knowledge and years of practice in administering electrical stimulation, ensuring a tailored recovery pathway.
What is Electrical Stimulation?
Electrical stimulation is a therapeutic treatment that applies electrical currents to stimulate nerve and muscle fibers. This non-invasive procedure aims to restore function, enhance strength, promote healing, and alleviate pain. By accurately targeting the electric currents, it facilitates a quicker recovery, ensuring a smoother rehabilitation journey.
How Does Electrical Stimulation Manhattan and Long Island Work?
The process of electrical stimulation involves sending low-level electrical currents through electrodes placed on the skin. These currents stimulate the nerves and muscles in the targeted area, mimicking the natural way your body would initiate muscle contractions. Through repeated E-stim sessions, muscles regain strength and coordination. Furthermore, electrical stimulation can enhance blood circulation, reduce muscle spasms, and promote cellular healing. The treatment not only accelerates the healing process but also aids in managing or eliminating chronic or acute pain.
Why Choose Our Occupational Therapist for Electrical Stimulation?
Opting for our Occupational Therapist ensures that you receive unparalleled expertise in electrical stimulation therapy. Our therapist holds certifications from recognized bodies, affirming a high standard of knowledge and practice in physical rehabilitation. The therapist designs a personalized E-stim protocol to align with your specific recovery goals, whether it's regaining mobility, reducing pain, or enhancing muscle strength.
With a comprehensive evaluation, our therapist identifies the precise needs and the most effective electrical stimulation settings for your condition. Additionally, the therapy sessions are conducted in a comforting and professional setting, enabling a conducive environment for your healing journey. The consistent monitoring and adjustment of your E-stim program ensure an adaptive, responsive approach towards achieving the desired outcomes.
Get the Care You Need in Manhattan and Long Island!
Recovery from a physical condition or injury demands the expertise of specialists adept in modern therapeutic techniques. Our Occupational Therapist is here to guide you through an effective electrical stimulation program, engineered towards accelerating your recovery and restoring healthy function. Embrace a blend of professional care, personalized attention, and cutting-edge therapy in your journey back to optimal functionality.
Our dedicated team is committed to providing a nurturing environment alongside a scientifically-proven treatment plan. The journey towards regaining the full functionality of your shoulder, arm, or hand is a call away. Schedule your appointment today and experience a proficient, patient-centered approach to physical rehabilitation with electrical stimulation.
Request An Appointment
Please fill out this form and
we will contact you about scheduling.


millie santos

Hands On Hand is an amazing place for physical therapy. The staff is friendly and helpful. I would definitely recommend Hands On Hand


Howard Marder

Great experience because the staff really cares.