Distal Radius Fractures in Manhattan and Long Island
Distal radius fractures are common occurrences with distinct causes, symptoms, and treatments. These fractures significantly affect the wrist anatomy, demanding timely intervention to restore function and alleviate discomfort. Seeking the expertise of certified hand therapists ensures a structured healing journey.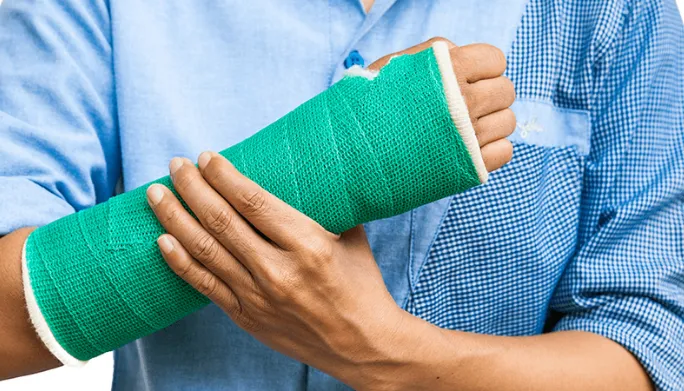 What are Distal Radius Fractures?
A Distal Radius Fracture refers to a break in the radius bone near the wrist, specifically at the end closer to the hand – an area known as the distal end. This fracture predominantly affects the larger of the two bones in the forearm, causing pain and impeding wrist and hand function. Since the radius bears most of the force transmitted through the wrist, any disruption in its integrity can significantly impact daily activities.
What Causes Distal Radius Fractures?
The etiology of distal radius fractures is often traced back to traumatic events or underlying medical conditions. Here are the primary causes:
Falls: Falling onto an outstretched hand (FOOSH) is a common cause. The abrupt force can lead to a fracture.
Accidents: Automobile or sports accidents can generate a high-force impact causing distal radius fractures.
Osteoporosis: This condition weakens bones, making them susceptible to fractures even with minimal trauma.

Repetitive stress: Repeated motions or overuse can cause stress fractures over time.
What Are The Symptoms of Distal Radius Fractures?
The symptoms of a distal radius fracture can manifest as varying degrees of discomfort and functional impairments, including:
Pain: Immediate and intense pain is often the first indicator.

Swelling and Bruising: These are common reactions to injury.

Deformity: The wrist may appear bent or crooked.

Limited Mobility: Difficulty in moving or using the wrist and hand.
What is the Treatment for Distal Radius Fractures in Manhattan and Long Island?
Treatment strategies aim at realigning the bone and facilitating healing, which may encompass:
Immobilization: Using a cast or a splint to keep the bone in position.

Surgery: Required in severe cases to realign and stabilize the fracture.

Medication: Pain relievers to manage discomfort.

Hand Therapy: Restoring strength, function, and mobility post-fracture.
What Can an Occupational Therapist Do For Me?
An occupational therapist plays a pivotal role in the recovery journey. Their expertise entails:
Customized Treatment Plans: Crafting individualized therapy regimes to cater to your unique healing trajectory.

Exercise Programs: Building strength and flexibility through targeted exercises.

Education: Providing insights on safeguarding your hands and preventing future injuries.

Pain Management: Utilizing techniques to alleviate pain and improve quality of life.

Adaptive Techniques: Training on alternative methods to perform daily activities during recovery.
Ready for Relief? Call Our Manhattan or Long Island Clinic!
Distal radius fractures, while common, require professional attention to ensure optimal healing. Our occupational therapists are equipped to provide comprehensive care, ushering you through a structured recovery process. Harness the opportunity to reclaim unhindered wrist and hand function. Contact us today, and take the first stride toward effective relief and rehabilitation. Your journey towards a pain-free life is merely a call away!
Request An Appointment
Please fill out this form and
we will contact you about scheduling.


Robin Birnbaum

I can not express how grateful I am to have found Hand in Hand. I had therapy before and after having surgery on my wrist. The progress they facilitated is remarkable. Beyond that, the facility is very clean and the therapists and assistance are all wonderful! Can't possibly give them the amount of praise they deserve. !if you need hand, wrist, elbow therapy I highly recommend them!!' 


Matt Simon

Great people and great therapy. I highly recommend all therapists, especially Leslie. Vanessa at the front desk is also terrific.