Ganglion Cysts in Manhattan and Long Island
In the maze of conditions that can affect hand function, ganglion cysts are a common culprit. They are non-cancerous lumps or sacs filled with a jelly-like fluid, often resembling a water balloon on a stalk. Though they can appear on any joint, they are most commonly found on or around the joints and tendons of wrists and hands.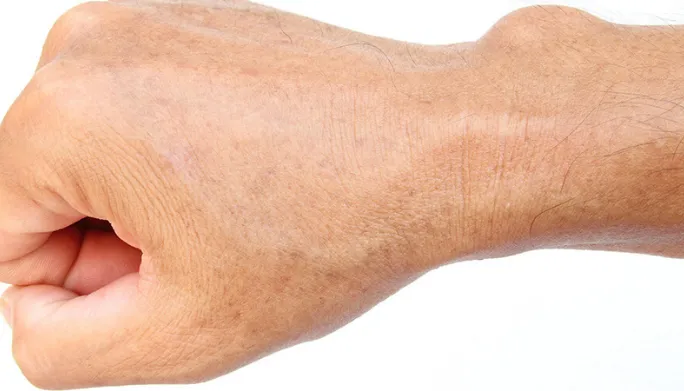 What is Ganglion Cyst?
Ganglion cysts, often dubbed as Bible cysts, are benign soft-tissue tumors that typically manifest near tendons or joints of your wrists, hands, and fingers. They are the most common hand tumor, comprising about 50-70% of all hand masses. The fluid inside a ganglion cyst is similar to the fluid that surrounds the tendons and joints, acting as a cushion during movement.
What Causes Ganglion Cyst?
The exact cause of ganglion cysts remains a mystery. However, they seem to occur when the tissue surrounding a joint or a tendon bulges out, forming a sac that fills up with the gelatinous fluid. Some potential triggers might include:
Joint or tendon irritation: Trauma, strain, or mechanical changes may cause the tissues surrounding a joint or tendon to swell, forming a cyst.

Overuse of joint: Repetitive wrist or hand movements might lead to ganglion cysts.

Age and Gender: They are more common in young and middle-aged adults, particularly women.

Underlying arthritis: Especially osteoarthritis, might contribute to the formation of ganglion cysts.
What Are the Symptoms of Ganglion Cyst?
Symptoms can range from mild to severe, often depending on the size and location of the cyst. Some of the common symptoms include:
Visible lump: A noticeable lump is often the primary symptom, which may change in size over time.

Discomfort or Pain: If the cyst presses against a nerve.

Tingling or muscle weakness: If the cyst compresses nerves.

Joint stiffness or reduced range of motion: In the affected finger or wrist.
What is the Treatment for Ganglion Cyst in Manhattan and Long Island?
Treatment is often determined based on the level of discomfort or functional limitation the cyst is causing:
Observation: If the cyst is not causing pain or interfering with function, your healthcare provider may just monitor it.

Non-surgical methods: Include immobilization or aspiration, where the fluid is drained from the cyst with a needle.

Surgical removal: If the cyst is painful, interferes with function, or causes numbness or tingling.
What Can a Hand Therapist Do for Me?
A Certified Hand Therapist (CHT) plays a vital role in both non-surgical and post-surgical treatment of ganglion cysts:
Education: Providing insight into the nature of ganglion cysts, prevention, and self-management strategies.

Non-Surgical Management: Creating a customized splint to immobilize the joint and decrease the size of the cyst, advising on activity modifications to prevent recurrence.

Post-Surgical Rehabilitation: Offering exercises and therapies to restore movement, strength, and function following cyst removal surgery.

Pain Management: Suggesting modalities to alleviate pain and discomfort associated with ganglion cysts.
The aim is to restore optimal function to the hand and arm, ensuring you can return to your everyday activities unhindered.
Ready for Relief? Call Our Manhattan or Long Island Clinic Today!
Living with a ganglion cyst can be painful and restrictive, but it doesn't have to be. Our certified hand therapist is adept at creating personalized treatment plans to relieve discomfort and improve function. Don't let a ganglion cyst hold you back from enjoying your life to the fullest. Reach out to us today and set the stage for a pain-free tomorrow!
Request An Appointment
Please fill out this form and
we will contact you about scheduling.


millie santos

Hands On Hand is an amazing place for physical therapy. The staff is friendly and helpful. I would definitely recommend Hands On Hand 


Howard Marder

Great experience because the staff really cares.