Dequervain Tendinopathy in Manhattan and Long Island
Are your wrists painting an uncomfortable picture of pain and discomfort? It could be the result of Dequervain Tendinopathy, a condition that primarily affects the tendons in your thumb and wrist. Certified Hand Therapists possess the skills and knowledge to guide you toward relief. But before seeking treatment, understanding the condition can pave the way for a smoother recovery journey.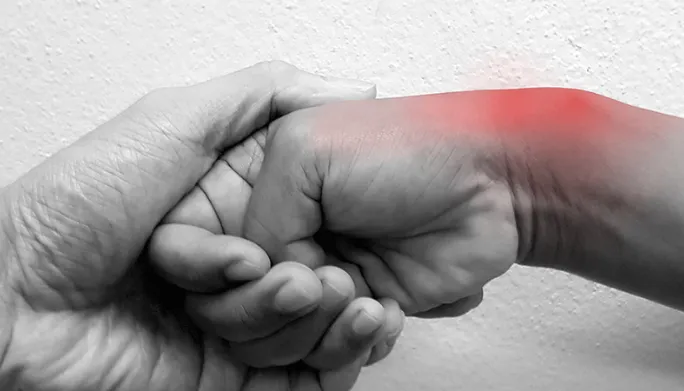 What is Dequervain Tendinopathy?
Dequervain Tendinopathy is a medical condition characterized by pain and swelling in the tendons located on the thumb side of the wrist. These tendons, namely the abductor pollicis longus and extensor pollicis brevis, are housed within a tunnel-like structure, making them susceptible to irritation as they glide back and forth during thumb and wrist movements.
What Causes Dequervain Tendinopathy?
The onset of Dequervain Tendinopathy can be triggered by various factors:
Overuse: Repetitive hand or wrist movements, especially in tasks involving pinching, grasping, or wringing, can strain the tendons.

Inflammatory conditions: Conditions like rheumatoid arthritis can contribute to the inflammation of tendons.

Direct Injury: A direct blow or injury to the thumb or wrist may incite the onset of Dequervain's.

Pregnancy: Hormonal changes and fluid retention during pregnancy can predispose women to this condition.
Symptoms of Dequervain Tendinopathy
The hallmark symptoms include:
Pain and swelling on the thumb-side of the wrist.
A "sticking" or "stop-and-go" sensation in the thumb when moving it.
Pain that may radiate along the thumb or up the forearm.
Difficulty gripping objects or forming a fist.
Treatment for Dequervain Tendinopathy in Manhattan and Long Island
Early intervention and appropriate treatment can alleviate symptoms and prevent further aggravation. Treatment options include:

Medication: Non-steroidal anti-inflammatory drugs (NSAIDs) can help reduce inflammation and pain.
Immobilization: Wearing a thumb spica splint to restrict movement and allow the tendons to heal.
Hand Therapy: Stretching and strengthening exercises can restore function and relieve discomfort.
Corticosteroid injections: Injecting steroids can significantly reduce inflammation.
Surgery: In severe or persistent cases, a surgical procedure to open the tendon sheath and release pressure may be necessary.
What Can a Hand Therapist Do For Me?
A Certified Hand Therapist (CHT) is your ally in overcoming Dequervain's Tendinopathy. They have specialized training in treating hand, wrist, and arm conditions. Here's how they can assist:
Personalized Evaluation: A thorough assessment to understand your unique symptoms, activities, and goals.

Customized Treatment Plan: Tailored interventions including exercise prescriptions, manual therapy, and ergonomic advice to promote healing and prevent recurrence.

Educational Guidance: Instructions on self-management, including activity modifications and preventive measures.

Splinting and Modalities: Provision of splints and use of modalities like ultrasound to alleviate symptoms.
Ready for Relief? Call Our Manhattan or Long Island Clinic
Don't let Dequervain's Tendinopathy keep you from grasping the beauty of life. If you're experiencing wrist and thumb pain, professional help is at arm's length. Our Certified Hand Therapist is equipped to provide targeted treatments that cater to your individual needs. Wave goodbye to discomfort and say hello to relief by calling us today to schedule your appointment! Your journey towards a pain-free life is but a call away.
This outlined article offers a comprehensive yet engaging glimpse into Dequervain Tendinopathy, its causes, symptoms, treatment options, and the indispensable help a Certified Hand Therapist can provide. The closing call to action warmly invites the reader to take charge of their situation, promising a professional, personalized approach towards alleviating their discomfort.
Request An Appointment
Please fill out this form and
we will contact you about scheduling.


Joel Marcus

Great therapy and nice people to work with. I highly recommend. 


Andrew Hoffman

Friendly knowledgeable doctors and staff.  Fixed my trigger thumb problem that 4 injections weren't able to.  I didn't have to undergo surgery as other doctors said I needed to fix this problem.I recommend Hand in Hand to all seeking occupational therapy!  They are a team you can feel comfortable with and trust in helping you heal!