Radial Nerve Palsy in Manhattan and Long Island
Radial Nerve Palsy, often regarded as a perplexing condition, can significantly impede an individual's daily functioning. It emerges from the impairment of the radial nerve, which plays a pivotal role in arm and hand movement. Understanding the intricacies of Radial Nerve Palsy, its origins, symptoms, and remedial pathways can significantly enhance the quality of life for affected individuals.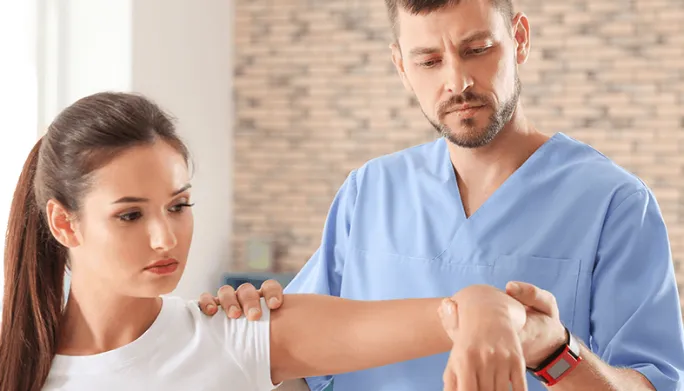 What is Radial Nerve Palsy?
Radial Nerve Palsy is a neurological disorder that occurs when there's an interruption in the functionality of the radial nerve. This nerve is crucial for providing movement to the arm and hand, alongside transmitting sensory signals from these areas back to the brain. When compromised, it severely affects an individual's ability to perform routine tasks, making timely intervention critical.
What Causes Radial Nerve Palsy?
The causes of Radial Nerve Palsy can be multifaceted, ranging from direct trauma to underlying medical conditions. Some of the primary culprits include:
Trauma: Injury to the arm, such as fractures or penetrating injuries, can cause damage to the radial nerve.

Compression: Prolonged pressure on the nerve from constricting casts, bandages, or sleeping in an awkward
position can lead to radial nerve palsy.
Tumors or cysts: Unusual growths can compress the nerve, affecting its function.

Systemic diseases: Conditions like diabetes can sometimes contribute to nerve dysfunction.

Iatrogenic causes: Occasionally, surgical procedures around the arm can inadvertently cause damage to the radial nerve.
What are the Symptoms of Radial Nerve Palsy
The manifestation of Radial Nerve Palsy can vary in intensity and form, with the common indicators being:
Weakness: Individuals may experience difficulty in moving the wrist, hand, or fingers.

Numbness or tingling: There could be a loss of sensation or a tingling feeling in the arm and hand.

Difficulty in straightening the wrist and fingers: This can impact the ability to grasp objects securely.

Pain: Discomfort or aching may occur around the arm or hand.
What is the Treatment for Radial Nerve Palsy in Manhattan and Long Island?
Timely intervention can significantly enhance the prognosis of Radial Nerve Palsy. The treatment regimen could encompass:
Medication: Pain relievers or anti-inflammatory medications can alleviate symptoms.

Hand Therapy: Engaging in exercises and stretches to preserve joint movement and rebuild muscle strength.

Occupational Therapy: Learning alternative strategies to perform daily activities can be helpful.

Orthotic Devices: Utilizing supportive devices to aid in hand and wrist movement.

Surgery: In severe cases or if an underlying cause like a tumor is present, surgical intervention may be necessary.

What Can an Occupational Therapist Do for Me?
Engaging with a certified occupational therapist can usher a significant improvement in coping with Radial Nerve Palsy. They are adept in:
Customized exercise programs: Crafting a tailored exercise regime to restore movement and strength.

Educating on adaptive equipment: Training on the use of supportive devices to simplify daily tasks.

Pain Management Techniques: Offering strategies for alleviating discomfort and enhancing quality of life.

Functional Re-education: Guiding through alternative techniques to perform everyday activities efficiently.
Ready for Relief? Call Our Manhattan or Long Island Clinic Today!
Facing the tribulations of Radial Nerve Palsy can be daunting, but with professional intervention, reclaiming a semblance of normalcy is well within reach. Our certified occupational therapists are poised to provide expert guidance, from accurate diagnosis to crafting a holistic treatment plan. If Radial Nerve Palsy is compromising your life quality, take the decisive step towards relief by reaching out to us today. Your journey towards improved function and a pain-free life begins with a single call.
This encapsulation sheds light on the critical aspects of Radial Nerve Palsy, aiming to foster a deeper understanding and encourage individuals to seek professional help. Through timely intervention and dedicated therapeutic assistance, overcoming the challenges posed by Radial Nerve Palsy is a viable reality.
Request An Appointment
Please fill out this form and
we will contact you about scheduling.


millie santos

Hands On Hand is an amazing place for physical therapy. The staff is friendly and helpful. I would definitely recommend Hands On Hand 


Howard Marder

Great experience because the staff really cares.