Frozen Shoulder in Manhattan and Long Island
Every movement we make, from grabbing a jar off a high shelf to throwing a ball, hinges on the smooth operation of our shoulders. However, a condition known as Frozen Shoulder (also termed Adhesive Capsulitis) can impair this function drastically. This article delves into the quintessence of Frozen Shoulder, shedding light on its causes, symptoms, and treatment routes, with a special focus on how a certified occupational therapist can guide one's recovery journey.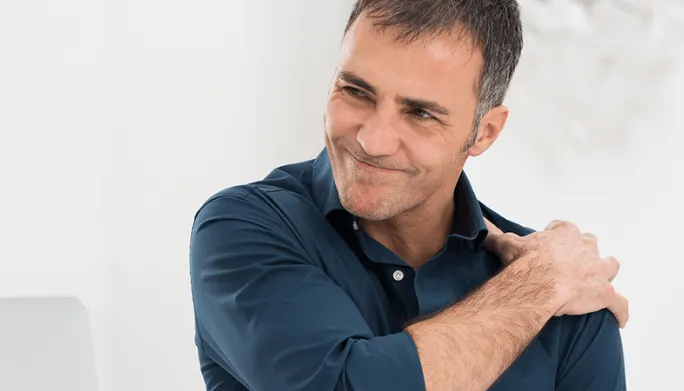 What is Frozen Shoulder?
Frozen Shoulder is a condition characterized by stiffness and pain in the shoulder joint. This disorder often gradually worsens over time, making the shoulder seemingly "frozen," thus making it difficult to move. The process of Frozen Shoulder tends to evolve through three stages: the freezing stage (where the shoulder starts to ache and lose its range of motion), the frozen stage (where the shoulder becomes stiffer, but the pain may lessen), and the thawing stage (where movement starts to improve).
What Causes Frozen Shoulder?
The exact cause of Frozen Shoulder is yet to be fully elucidated. However, it's believed to arise when the capsule surrounding the shoulder joint thickens and tightens, encasing the joint and hampering its mobility. Several factors can predispose individuals to developing Frozen Shoulder. These include:
Age and gender: Individuals over 40, particularly women, are more prone to Frozen Shoulder.

Medical conditions: Those with certain diseases like diabetes, cardiovascular disease, or thyroid disorders are at a higher risk.

Immobility or reduced mobility: Extended periods of immobilization due to surgery or other injuries can enhance the risk of Frozen Shoulder.
What are the Symptoms of Frozen Shoulder?
The symptoms of Frozen Shoulder are typically progressive, often beginning mildly and aggravating over time. They primarily include:
Pain: Initially, one may experience a dull or aching pain in the outer shoulder area or the upper arm.

Stiffness: The shoulder becomes severely stiff, impeding its mobility.

Limited movement: Over time, the shoulder's range of motion diminishes, making it challenging to perform everyday tasks.
What is the Treatment for Frozen Shoulder in Manhattan and Long Island?
Frozen Shoulder may take one to three years to resolve naturally; however, treatment can help alleviate symptoms and expedite recovery. Treatment modalities include:
Hand therapy: Engaging in exercises to maintain as much mobility and flexibility as possible.

Medications: Over-the-counter pain relievers or prescription medication to reduce inflammation and pain.

Steroid injections: Corticosteroid injections can help alleviate pain.

Surgery: In severe cases, surgery may be necessary to loosen the stiff joint capsule.
What Can an Occupational Therapist Do for Me?
A certified occupational therapist is quintessentially trained to administer targeted therapy for conditions affecting the body and upper extremities, including Frozen Shoulder. Our specialist can:
Design a tailored exercise regimen to restore mobility and alleviate pain.
Offer manual therapy techniques to enhance movement.
Educate on activity modifications to avoid exacerbating symptoms.
Provide ergonomic recommendations to foster a conducive healing environment.
Liaise with other healthcare providers for a holistic treatment approach.
Your journey towards regaining shoulder function can significantly benefit from the expertise of a CHT. With consistent therapy and adherence to the recommended exercise regimen, you can expedite the "thawing" process and reclaim the full function of your shoulder.
Ready for Relief? Call Our Manhattan or Long Island Clinic
Do not let Frozen Shoulder keep you in a bind. Reach out to our certified occupational therapist today and take a decisive step towards reclaiming your life from the clutches of Frozen Shoulder. Our seasoned therapist is well-equipped to provide the support and professional guidance necessary for a successful rehabilitation journey. Call us today to schedule an appointment and embark on the path to recovery.
With this broad overview, you are now better acquainted with the enigmatic entity that is Frozen Shoulder, alongside the valuable role that a certified occupational therapist plays in alleviating this condition. Your arm is extended; the next move is yours. Remember, help is just a call away.
Request An Appointment
Please fill out this form and
we will contact you about scheduling.


Robin Birnbaum

I can not express how grateful I am to have found Hand in Hand. I had therapy before and after having surgery on my wrist. The progress they facilitated is remarkable. Beyond that, the facility is very clean and the therapists and assistance are all wonderful! Can't possibly give them the amount of praise they deserve. !if you need hand, wrist, elbow therapy I highly recommend them!!'


Matt Simon

Great people and great therapy. I highly recommend all therapists, especially Leslie. Vanessa at the front desk is also terrific.