Tennis Elbow in Manhattan and Long Island
Tennis Elbow, medically known as lateral epicondylitis, is a common condition affecting more than just athletes, as its name might suggest. If you are facing discomfort or pain while lifting objects or twisting your arm, you might be encountering Tennis Elbow. This article aims to provide a comprehensive understanding of Tennis Elbow, its causes, symptoms, and how an Occupational Therapist can assist in overcoming the ailment, guiding you on a pathway toward regaining your arm's functionality.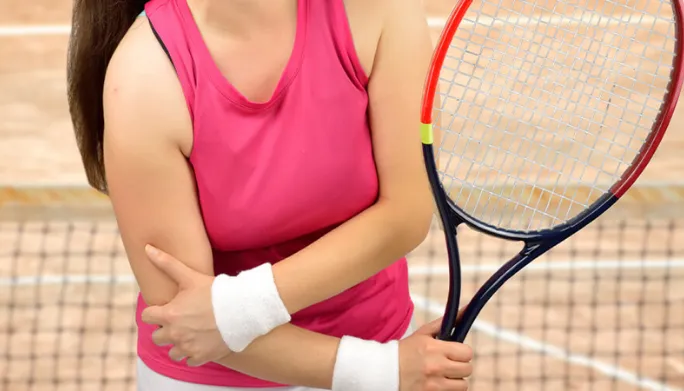 What is Tennis Elbow?
Tennis Elbow is a form of tendinitis that causes pain around the outside of the elbow, usually exacerbated by repetitive motions of the arm and wrist. The condition occurs when the tendons connecting the forearm muscles to the elbow's exterior develop tiny tears or become inflamed. Although termed "Tennis Elbow," the condition affects various individuals, not just tennis players, and can significantly impact daily activities.
What Causes Tennis Elbow?
The primary cause of Tennis Elbow is the overuse of forearm muscles from repetitive motion, straining the tendons that anchor these muscles to the lateral epicondyle, a bony bump on the outside of your elbow. Activities that can lead to Tennis Elbow include:
Sporting activities like tennis, where frequent swinging and snapping of the wrist are involved.
Occupational activities such as painting, typing, knitting, or any task that requires repetitive motion of the arm and wrist.
Incorrect techniques or equipment use, like using a tennis racket that is too tight or heavy, can also contribute to the onset of Tennis Elbow.
What are the Symptoms of Tennis Elbow?
The primary symptom of Tennis Elbow is a gradual development of pain on the outside of the elbow, which can extend to the forearm and wrist. Other symptoms include:
Weakness in the forearm.
A persistent ache around the elbow, particularly after using the arm.
Stiffness in the elbow, especially in the morning.
Difficulty in extending the forearm fully due to discomfort or pain.
What is the Treatment for Tennis Elbow in Manhattan and Long Island?
The treatment of Tennis Elbow primarily focuses on relieving pain and reducing inflammation, followed by exercises to strengthen the tendons and muscles. Some common treatment methods include:
Resting the affected arm and avoiding activities that exacerbate the symptoms.
Applying ice to the affected area to reduce inflammation.
Over-the-counter pain relievers like ibuprofen or naproxen.
Manual therapy exercises to stretch and strengthen the muscles.
In severe cases, surgery might be recommended to repair the damaged tendons.
What Can an Occupational Therapist Do For Me?
An Occupational Therapist is proficient in addressing conditions affecting the hand, wrist, and elbow. By consulting an Occupational Therapist for Tennis Elbow, you can benefit from:
A personalized therapy plan designed to reduce pain, enhance mobility, and restore function.
Education on ergonomic principles to prevent the recurrence of Tennis Elbow.
Manual therapy and exercises to promote healing and strengthen forearm muscles.
Guidance on the appropriate use of supportive devices like braces or straps.
Modalities like ultrasound or electrical stimulation to alleviate pain and accelerate healing.
Ready for Relief? Call Our Manhattan or Long Island Clinic Today!
Tennis Elbow doesn't have to be a perpetual hindrance in your life. With professional guidance from our Occupational Therapists, you can work towards a swift and effective recovery, reclaiming the ease and functionality of your arm. Get started on your path to recovery by calling us today to schedule a consultation. Your comfort and rehabilitation are our utmost priority, and we are dedicated to providing exceptional care that facilitates your healing journey.
Request An Appointment
Please fill out this form and
we will contact you about scheduling.


Jill Glick

The staff at Hand in Hand is wonderful. From the minute you call to make an appt with Vanessa, to the therapy received by the staff, you will be in good hands!


Michele Kelley

I have made an amazing recovery, thanks to the staff at Hand in Hand. I am also in the health profession and thoroughly recommend their services to my colleagues for their clients. The staff is professional and skilled in their respective roles, the facility clean and comfortable, and most importantly, the staff keeps you very motivated to make great strides in your personal recovery. Call them today!