Hand Pain in Manhattan and Long Island
Hand pain is an affliction that impacts individuals indiscriminately, often throwing a wrench in the daily mechanisms of our lives. The complexity of the hand, composed of 27 bones intertwined with a network of muscles, tendons, and nerves, makes it a marvel of natural engineering and, unfortunately, a hub for discomfort and pain when things go awry.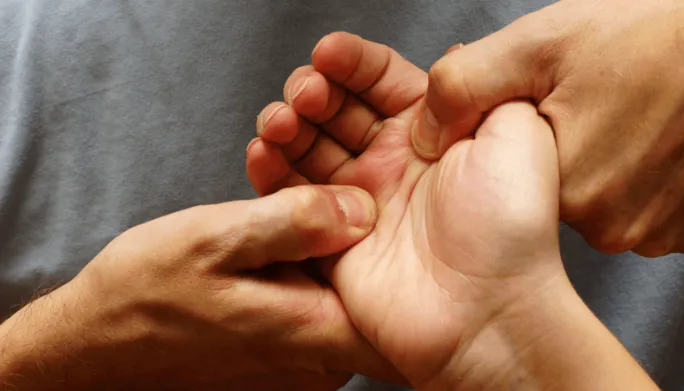 What is Hand Pain?
Hand pain encompasses a variety of discomforts experienced in the fingers, palm, wrist, or back of the hand. The pain can range from a dull ache to a sharp sting, from fleeting to chronic. The precision activities the hand performs—from gripping a cup to typing on a keyboard—become Herculean tasks under the siege of hand pain. Over time, if left unchecked, hand pain may morph into a severe impediment, curtailing one's ability to function optimally in day-to-day activities.
What Causes Hand Pain?
The etiology of hand pain is a broad spectrum, ranging from acute injuries to chronic medical conditions:
Injuries: Sprains, fractures, and dislocations are common culprits.

Overuse: Repetitive motions can lead to conditions like carpal tunnel syndrome or tendonitis.

Arthritis: Osteoarthritis and rheumatoid arthritis are significant contributors to hand pain.

Nerve compression or damage:Conditions like carpal tunnel syndrome arise from nerve compression.

Infections: Various infections can also cause hand pain.

Congenital deformities: Some individuals may be born with hand deformities that cause pain.
What are the Symptoms of Hand Pain?
Aside from the obvious discomfort, hand pain may parade alongside a host of symptoms such as:
Swelling and stiffness
Numbness or tingling
Weakness in gripping objects
Redness and warmth
Clicking or popping sound during movement
What is the Treatment for Hand Pain in Manhattan and Long Island?
Addressing hand pain necessitates a blend of self-care measures, medical treatment, and sometimes surgery, depending on the severity and cause of the pain. Common treatments include:
Medication: Over-the-counter pain relievers or prescription medication for more severe pain.

Splinting: Immobilizing the affected area can promote healing.

Physical Therapy: Exercises can strengthen muscles and enhance the range of motion.

Surgery: In severe cases, especially when structural issues are present, surgery might be necessary to alleviate pain and restore function.

Steroid Injections: These injections can help to reduce inflammation and pain in the joints or tendons.

Cold and Heat Therapy: The application of cold can reduce inflammation and numb the area, whereas heat can relax and loosen tissues and stimulate blood flow.

What Can a Hand Therapist Do For Me?
A hand therapist, a practitioner specializing in conditions affecting the hand and upper limb, is your ally in the quest for relief from hand pain. They possess a nuanced understanding of the hand's anatomy and the multifarious conditions that could trigger pain. Through a cocktail of therapeutic exercises, manual therapy, splinting, and educating on preventative measures, a hand therapist orchestrates a tailored strategy to not only alleviate your hand pain but also to rehabilitate your hand to its optimal function. Their goal is to minimize pain, enhance movement, restore function, and prevent the recurrence of hand issues.
The journey with a hand therapist often begins with an in-depth evaluation of your hand, identifying the root causes of your pain, and devising a personalized treatment plan. They may utilize modalities like ultrasound or electrical stimulation, alongside manual therapy and guided exercises, to accelerate your road to recovery. By following through with the recommended therapy regimen, you can expect to see significant improvements in the mobility, strength, and overall functionality of your hand, which in turn, augments your quality of life.
Ready for Relief? Call Our Manhattan or Long Island Clinic Today!
Living with hand pain can be a taxing ordeal, stifling your ability to relish simple pleasures and execute daily tasks. However, with the right help, overcoming hand pain is a realistic and achievable goal. Our certified hand therapists are ready and equipped to guide you through a structured, evidence-based treatment plan. Your journey towards a pain-free, functional hand can start today. Reach out to us, and let's set a course toward restoring the seamless orchestration of your hand movements, getting you back to living a fulfilling, active life without the shackles of hand pain. Our professional and compassionate hand therapy team is just a call away. Embrace the prospect of relief, and take the initiative towards a pain-free life by contacting us today!
Request An Appointment
Please fill out this form and
we will contact you about scheduling.


Lee Jutton

I fractured my finger while running and had to get surgery, and afterward I could barely move my finger or use my hand. These folks are excellent, kind, helpful and now I can pretty much do things the way I could before I fell. Highly recommend. 


Rita Friedman

I worked with Joanne at Hand In Hand. I had surgery for my wrist and elbow and needed therapy for both.I made enormous progress regaining motion and strength thanks to the excellent guidance by Joanne. She is extremely knowledgeable and helpful and works in a very methodical manner.  Working with a therapist who specializes in hands and arms was definitely an advantage.