Shoulder Pain in Manhattan and Long Island
Shoulder pain can be a disabling condition, affecting the quality of your life, including your ability to perform everyday activities, engage in hobbies, and even interrupt sleep. Your shoulder is a complex network of muscles, tendons, and joints that allow for a wide range of motion and flexibility. Understanding shoulder pain, its causes, symptoms, and treatment options is your first step toward regaining a pain-free existence. Occupational Therapists play a pivotal role in the rehabilitation journey, guiding individuals toward achieving optimal shoulder function.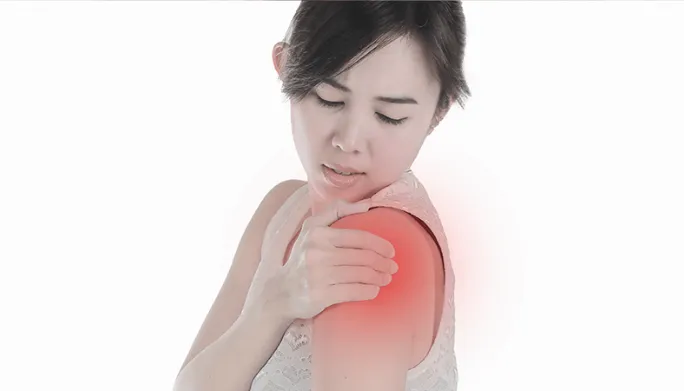 What is Shoulder Pain?
Shoulder pain refers to any discomfort or aching experienced in or around the shoulder joint. It could radiate into the surrounding regions, like the neck or back, and could hinder movements such as reaching overhead, behind the back, or carrying objects. Pain can range from mild aching to sharp or severe pain, and might be accompanied by stiffness, weakness or other symptoms.
What Causes Shoulder Pain?
Various factors can contribute to shoulder pain, including but not limited to:
Rotator Cuff Injuries: The rotator cuff is a group of muscles and tendons surrounding the shoulder joint. Tears or strains in the rotator cuff are common sources of shoulder pain.

Tendinitis: Tendons are the thick fibrous cords that attach muscles to bones. Overuse or aging can lead to tendon inflammation, causing tendinitis.

Arthritis: Particularly osteoarthritis, which wears down the cartilage within the joint causing bone-on-bone contact, leading to pain and stiffness.

Frozen Shoulder (Adhesive Capsulitis): Characterized by stiffness and pain in the shoulder joint, hindering normal movement.
Bursitis: Inflammation of the bursa, a small fluid-filled sac that acts as a cushion between the bones and soft tissues.

Fractures or dislocations: Accidents or falls may cause fractures or dislocations, triggering severe shoulder pain.
What are the Symptoms of Shoulder Pain?
The manifestations of shoulder pain can vary widely but typically include:
Persistent aching or soreness
Sharp pain, particularly when moving the arm
Stiffness and limited range of motion
Weakness in the shoulder muscles
Swelling and tenderness around the joint
Difficulty in performing everyday tasks
What is the Treatment for Shoulder Pain in Manhattan and Long Island?
The appropriate treatment for shoulder pain largely depends on the cause and severity. Common treatment modalities include:
Medication: Over-the-counter pain relievers or prescription medication for more severe pain.

Manual Therapy: Exercises and stretches to strengthen the shoulder muscles and improve flexibility.

Steroid injections: To reduce inflammation and provide temporary relief.

Surgery: In severe cases, surgical intervention may be necessary to repair damaged tissues or replace the joint.
What Can an Occupational Therapist Do for Me?
An Occupational Therapist can devise a personalized treatment plan to address your shoulder pain. They work to restore function, improve mobility, and alleviate pain through various therapeutic techniques. Your therapy may include:
Manual therapy to improve joint movement
Strengthening and stretching exercises
Modalities like ultrasound or cold and heat therapy
Ergonomic recommendations
Education on activity modifications to prevent further injury
Ready for Relief? Call Our Manhattan or Long Island Clinic Today!
Don't let shoulder pain hold you back from enjoying a fulfilling, active life. Our Occupational Therapists are ready to guide you on the path to recovery. Call us today to schedule your appointment and take the first step towards a pain-free existence. Your journey to shoulder pain relief and enhanced life quality begins with us.
Request An Appointment
Please fill out this form and
we will contact you about scheduling.


Patricia Adamo

These guys are THE BEST!!!  Rivka, Denise, Debbie & Vanessa are amazing!  Everyone here does a stellar job.  They are so helpful & nice & fun!  They also play the best music to do your PT to.  :-). Can't say enough great things about them!!!


millie santos

Hands On Hand is an amazing place for physical therapy. The staff is friendly and helpful. I would definitely recommend Hands On Hand