Ehlers Danlos Syndrome in Manhattan and Long Island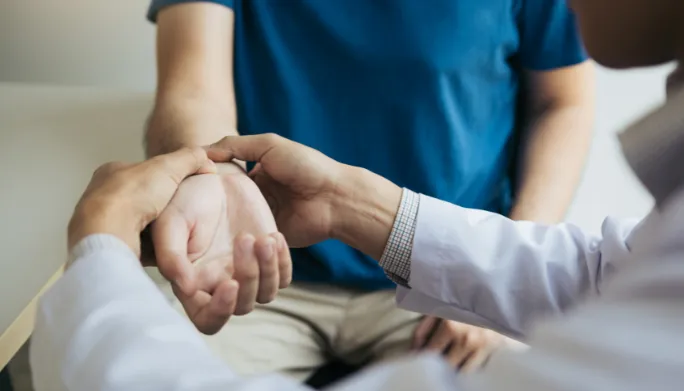 Understanding Ehlers-Danlos Syndrome and Its Treatment in Occupational Therapy Clinics
Ehlers-Danlos Syndrome (EDS) is a group of inherited connective tissue disorders characterized by hypermobile joints, skin that's stretchy and bruise-prone, and various other symptoms. EDS can significantly impact an individual's quality of life, making everyday tasks challenging. Thankfully, occupational therapy clinics provide specialized interventions that cater to the unique needs of EDS patients.
What is Ehlers-Danlos Syndrome (EDS)?
EDS comprises a range of genetic disorders that affect the connective tissues in the body. Connective tissues provide strength and elasticity to the underlying structures in our bodies. When they're compromised, as is the case with EDS, it leads to a series of clinical manifestations.
While there are various subtypes of EDS, they all share some common symptoms:
Joint hypermobility: Joints that extend beyond the normal range, often resulting in dislocations or subluxations.
Skin that is both stretchy and fragile: This leads to easy bruising, wider scars, and skin that feels soft to the touch.
Vascular complications: Some types of EDS can affect blood vessels, making them fragile and prone to rupture.
How Occupational Therapy Helps EDS Patients in Long Island and Manhattan
Occupational therapists (OTs) play a pivotal role in improving the quality of life for EDS patients. Their primary objective is to empower patients to perform daily activities with greater ease, safety, and independence. Here's how they help:
Joint Protection Techniques: OTs teach EDS patients joint protection strategies. This includes using adaptive equipment, modifying tasks, and learning safer ways to move to prevent joint wear and tear.
Pain Management: Chronic pain is a common complaint among EDS patients. OTs provide techniques such as heat/cold therapy, therapeutic exercises, and recommendations on ergonomic tools that can help manage and reduce pain.
Energy Conservation: Fatigue can be debilitating for EDS patients. OTs introduce strategies for pacing, prioritizing tasks, and taking timely breaks to maximize energy throughout the day.
Adaptive Equipment: From braces to support weakened joints to specially designed utensils that make eating easier, OTs introduce patients to a variety of tools that can make daily tasks less taxing.
Motor Skills Development: Some EDS patients may struggle with tasks that require fine motor skills due to joint instability. OTs provide exercises and strategies to strengthen and improve these skills.
Education: OTs educate patients on the nature of EDS and its implications. By understanding their condition, patients can make informed decisions about their care and daily activities.
Why Choose an Occupational Therapy Clinic for EDS Treatment in Long Island and Manhattan
Occupational therapy clinics provide a holistic approach to EDS management. They don't just focus on the physical aspects but also consider the emotional and psychological challenges EDS patients face. Here are some reasons why EDS patients should consider OT:
Personalized Care: Every EDS patient is unique. Occupational therapists craft individualized treatment plans based on a patient's specific needs, challenges, and goals.
Holistic Approach: Beyond physical symptoms, EDS can affect mental well-being. OTs address this by providing coping strategies, building resilience, and fostering a positive mindset.
Empowerment: OTs equip EDS patients with the skills and knowledge to lead more independent lives. By mastering certain techniques and using adaptive equipment, patients can regain control over their lives.
In Conclusion
Ehlers-Danlos Syndrome, while challenging, is not insurmountable. With the right interventions and support, EDS patients can lead fulfilling lives. Occupational therapy clinics, with their patient-centric approach, are at the forefront of providing this necessary care and support. By focusing on the individual needs of each patient and offering tailored interventions, OTs are helping EDS patients navigate their challenges and reclaim their independence. If you or a loved one has EDS, consider seeking out an occupational therapy clinic that understands and specializes in this condition.
Request An Appointment
Please fill out this form and
we will contact you about scheduling.


Howard Marder

Great experience because the staff really cares.


Patricia Adamo

These guys are THE BEST!!!  Rivka, Denise, Debbie & Vanessa are amazing!  Everyone here does a stellar job.  They are so helpful & nice & fun!  They also play the best music to do your PT to.  :-). Can't say enough great things about them!!!