Wound Care In Manhattan and Long Island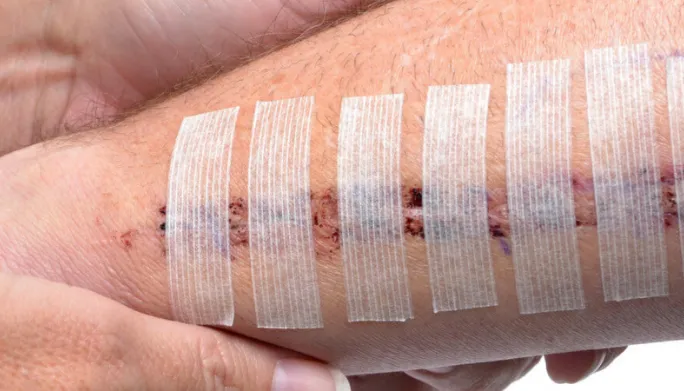 In the intricate domain of occupational therapy, wound care emerges as a cornerstone, addressing both the aesthetics and functionality following an injury or surgery. Wound care, as a focused therapeutic approach, is crucial to expedite healing, prevent infection, and ensure the optimal restoration of body movement and strength. Our certified occupational therapist provides specialized wound care tailored to meet the unique demands of each individual case, enhancing the prospects of a full recovery.
What is Wound Care?
Wound care is a specialized medical practice aimed at promoting the healing of wounds, minimizing scar tissue development, and averting infections. Wounds, particularly on the upper extremities, can arise from a plethora of circumstances such as accidents, surgeries, burns, or chronic health conditions like diabetes. These wounds, if left unattended, can evolve into a complex array of problems including infections, decreased function, and unsightly scars. Expert wound care is pivotal to prevent these complications, thus ensuring individuals regain maximum functionality and aesthetics of their body.
How Does Wound Care Work in Manhattan and Long Island?
Wound care encompasses an array of procedures and therapies administered by a certified occupational therapist. The process initiates with a thorough assessment of the wound to determine its extent and the appropriate treatment course. This may include cleaning to eliminate any foreign material and bacteria, dead tissue debridement, application of topical antibiotics to prevent or treat infections, and dressing changes to maintain a moist healing environment. Additionally, the treatment may incorporate exercises and manual therapy to restore function and prevent stiffness. In more severe cases, advanced wound care techniques like negative pressure wound therapy or hyperbaric oxygen therapy might be employed.
Why Choose Our occupational Therapist for Wound Care?
Our certified occupational therapist comes with a profusion of experience and knowledge in wound care, ensuring that you receive the optimal, evidence-based care for your situation. With a meticulous understanding of the body's anatomy and a gentle, compassionate approach, our therapist not only accelerates wound healing but also works toward restoring the full functionality and appearance of your body. Furthermore, our specialist is adept at providing personalized care, ensuring that the treatment plan is tailored to meet your specific needs and lifestyle, which significantly enhances the outcome of the therapy.
Get the Care You Need in Manhattan and Long Island!
Recovering from a wound can be a challenging journey. However, with the right expert care, this journey can lead to a successful restoration of your upper extremity function and appearance. We invite you to reach out to our occupational therapist who is ardently committed to assisting you through every step of your healing process. Your journey towards complete wound healing and regaining a full range of functionality begins with us. With our occupational therapist, rest assured that you are in highly capable and compassionate hands. Your optimal recovery is our prerogative!
Request An Appointment
Please fill out this form and
we will contact you about scheduling.


David Salazar

I was referred to this location after an unfortunate accident that left my right hand broken while vacationing in NYC.  Everyone was very nice including Leslie, my Therapist, who made the splint for my right hand in a short amount of time and gave me all the info I needed for care and speedy healing for my trip back to CA.  They even called my Ins. right then and figured out what my coverage was to ensure proper billing.  I would highly recommend this place to anyone who may need rehabilitation following an injury, their office was completely set up to help anyone regain their full motion and mobility.


Robin Birnbaum

I can not express how grateful I am to have found Hand in Hand. I had therapy before and after having surgery on my wrist. The progress they facilitated is remarkable. Beyond that, the facility is very clean and the therapists and assistance are all wonderful! Can't possibly give them the amount of praise they deserve. !if you need hand, wrist, elbow therapy I highly recommend them!!'