Trigger Finger in Manhattan and Long Island
In our daily lives, the hands are indispensable instruments that enable us to perform a myriad of tasks, from the mundane to the intricate. Therefore, any discomfort or impairment in hand function can significantly impact our quality of life. One common condition that can impede hand function is known as Trigger Finger, which is not only painful but can also limit finger movement. This comprehensive guide aims to unveil what Trigger Finger entails, its causes, symptoms, available treatment options, and the role of a certified hand therapist in managing and remedying this condition.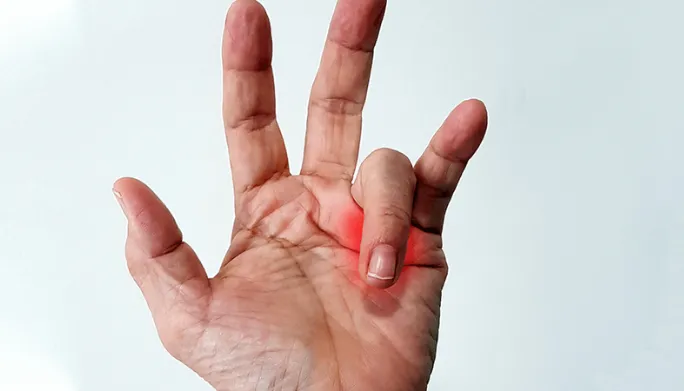 What is Trigger Finger?
Trigger Finger, medically referred to as stenosing tenosynovitis, is a condition wherein a finger or thumb gets locked in a bent position and may snap or pop when straightened. This occurs due to the inflammation of the flexor tendon sheath, which hampers the smooth gliding motion of the tendon through the sheath, thus making finger movement painful and restricted.
What Causes Trigger Finger?
The primary culprits behind Trigger Finger are the repetitive motions or forceful use of the finger or thumb. However, certain medical conditions can predispose individuals to developing Trigger Finger. They include:
Individuals involved in professions or activities that necessitate repetitive gripping actions are at a heightened risk of developing this condition.
What Are The Symptoms of Trigger Finger?
The manifestation of Trigger Finger can be gradual, and the symptoms often worsen with time. Some common indications include:
A tender lump at the base of the affected finger.
Stiffness and clicking sensation in the finger, especially in the morning.
Locking of the finger in a bent position, which may suddenly pop straight.
Pain when bending or straightening the affected finger.
What is The Treatment for Trigger Finger in Manhattan and Long Island?
Treatment for Trigger Finger aims to alleviate the discomfort and restore normal finger function. The approach could be non-surgical or surgical depending on the severity of the condition:
Non-Surgical Treatments:
Rest and Activity Modification: Avoiding activities that aggravate the symptoms.

Splinting: Wearing a splint to keep the finger in a neutral, extended position.

Medication: Over-the-counter pain relievers or prescription drugs to reduce inflammation.

Steroid Injections: Injecting corticosteroids to alleviate inflammation.
Surgical Treatments:
Trigger Finger Release: A procedure to widen the opening of the tendon sheath enabling smooth tendon movement.
What Can A Hand Therapist Do For Me?
A certified hand therapist plays a pivotal role in both the pre and post-surgical phases of Trigger Finger treatment. They will craft a tailored therapy program encompassing exercises to enhance finger mobility, strength, and function while mitigating pain and inflammation. They may also educate on ergonomic modifications to prevent future occurrences of Trigger Finger.
Additionally, hand therapists are skilled in fabricating splints and guiding patients on how to effectively use them to expedite the healing process. They provide a holistic approach to treatment, addressing not only the symptoms but the underlying causes, thereby ensuring a well-rounded recovery and preventing re-occurrence.
Ready For Relief? Call Our Manhattan or Long Island Clinic Today!
Don't let Trigger Finger hamper your daily chores or the activities you love. Our certified hand therapists are adept at providing the care and treatment essential for recuperating from Trigger Finger. Seek the expertise of our seasoned hand therapists by calling us today, and embark on a journey to regain the full function and comfort of your hand.
Request An Appointment
Please fill out this form and
we will contact you about scheduling.


Andrea Donahue

I give Hand In Hand my highest recommendation. The team is highly professional, friendly, supportive and encouraging. I am so grateful to the Hand In Hand team for helping me to regain full use of my hand. Hand In Hand is the place to go for hand rehabilitation.


Gg Wing

Professional and the nicest staff ever..clean, socially distanced, no stairs nor elevators, street level.