IASTM in Manhattan and Long Island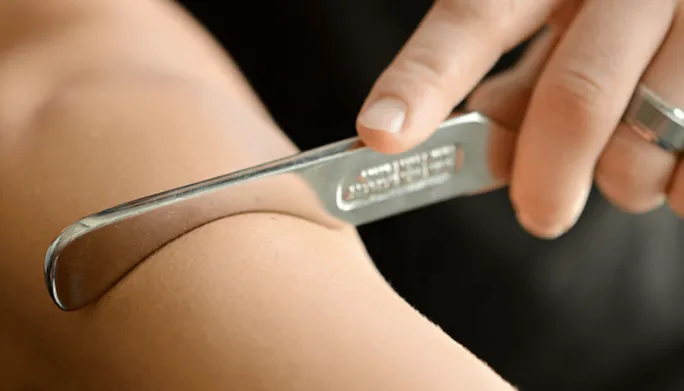 Instrument-Assisted Soft Tissue Mobilization (IASTM) is an innovative therapeutic approach that involves the use of specialized tools to deliver targeted compressive strokes for the manipulation of skin, myofascial tissue, muscles, and tendons. By applying these compressive strokes, IASTM stimulates the healing process within the injured area, facilitating and expediting the recovery process. Extensive research supports the effectiveness of IASTM in treating a wide range of upper extremity pathologies, including but not limited to carpal tunnel syndrome, lateral epicondylitis (tennis elbow), trigger thumb, shoulder injuries, and various myofascial injuries.
How Does IASTM Work?
IASTM is a specialized treatment technique employed by our Occupational Therapist to specifically target the fascial system, resulting in enhanced healing and improved patient outcomes. Fascia, a connective tissue sheath located beneath the skin, plays a crucial role in connecting, covering, enclosing, and separating muscles and internal organs. However, following an injury, trauma, or surgical procedure, the body's natural healing process can give rise to the formation of scar tissue and fascial adhesions. These adhesions and scar tissue can impede proper healing, causing pain and limiting range of motion.
By utilizing IASTM, our Occupational Therapist can effectively identify and stimulate scar tissue and fascial adhesions. This therapeutic approach allows the body to reorganize itself, promoting pain relief, improved blood flow, enhanced healing, and increased range of motion. IASTM enables precise targeting and manipulation of the fascial system, facilitating the breakdown of scar tissue and adhesions, and encouraging the restoration of optimal tissue function.
IASTM serves as a valuable tool in the hands of our experienced Occupational Therapist, allowing us to address fascial restrictions and scar tissue effectively. By incorporating this technique into our treatment plans, we aim to optimize patient outcomes and support the body's natural healing processes. Experience the transformative benefits of IASTM as our dedicated Occupational Therapist guide you toward pain relief, improved functionality, and a swifter return to a fulfilling and active lifestyle.
How Do I Know if IASTM is Right for Me?
Scar tissue and fascial adhesions can manifest in the body due to various factors beyond injuries or surgeries. Chronic pain, a sedentary lifestyle, and repetitive activities can contribute to the excessive formation of fascial adhesions or scar tissue. When these tissues become dysfunctional, they can hinder normal function, cause discomfort, and significantly impact one's quality of life.
When implemented by a skilled Occupational Therapist, IASTM can be a highly effective treatment approach. However, it is important to note that optimal results are achieved when IASTM is combined with appropriate therapeutic exercises, tailored home programming, and modifications to daily activities.
What Are the Benefits of IASTM in Manhattan and Long Island?
Decrease pain
Increase range of motion
Manage scar tissue
Improve hyper/hyposensitivity
Improve circulation
Get started with IASTM in Manhattan and Long Island Today!
Call our office to make an appointment. Our Occupational Therapist will help you determine the best treatment plan. Do not suffer from life! Get occupational therapy today!
Request An Appointment
Please fill out this form and
we will contact you about scheduling.


Bill Frischling

Great experience! Debbie, Rifka, Leslie, Henry, Denise and Vanessa were all wonderful to work with. My rehab following thumb surgery went very well.


Andrea Donahue

I give Hand In Hand my highest recommendation. The team is highly professional, friendly, supportive and encouraging. Hand In Hand is the place to go for hand rehabilitation.