Kinesio Taping In Manhattan and Long Island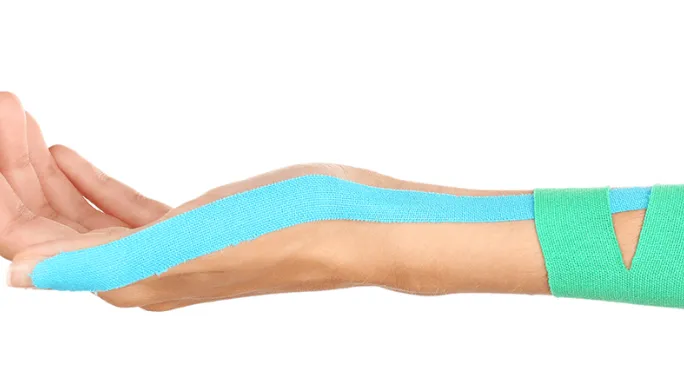 Ultrasound therapy and Kinesio taping are pivotal in the holistic management and rehabilitation of muscle and joint disorders. As a Occupational Therapist, a specialized focus is placed on employing modern and efficient treatment modalities to expedite your recovery journey.
What is Kinesio Taping?
Kinesio Taping is a therapeutic taping technique, not only offering your joints and muscles the support they need but rehabilitating the affected area at the same time. The Kinesio tape is latex-free, hypoallergenic, and wearable for days at a time, making it a suitable solution for individuals of all ages with varying lifestyles. This technique is a valuable adjunct to the ultrasound therapy provided in our practice, enabling a multi-faceted approach to physical rehabilitation.
How Does Kinesio Taping in Manhattan and Long Island Work?
The unique design of Kinesio Tape facilitates a gentle lifting of the skin, creating a space between the muscle and dermal layers. This space enhances blood flow and lymphatic drainage, crucial for healing and reducing inflammation. The taping method also assists in aligning joint structures, promoting a better range of motion, and aiding in the correction of joint malalignment. The combination of these effects accelerates the healing process, reduces pain, and enhances overall functionality.
Why Choose Our Occupational Therapist for Kinesio Taping?
Receiving Kinesio Taping from our Occupational Therapist ensures that you are benefiting from a level of expertise borne from rigorous training and extensive clinical experience. Employing an individualized approach, our specialist assesses your unique situation, tailors a treatment plan, and continually adapts this plan to ensure your rehabilitation goals are met. The integration of Kinesio Taping with ultrasound therapy further magnifies the potential for rapid and sustained recovery.
Get the Care You Need in Manhattan and Long Island!
Here at Hand in Hand Rehabilitation, we are invested in your quick and effective recovery. Our Occupational Therapist is ready and equipped to provide the high standard of care you deserve. Whether you are recuperating from hand surgery, nursing a sports injury, or managing chronic shoulder or elbow conditions, the combined benefits of ultrasound therapy and Kinesio Taping provide a comprehensive solution for your rehabilitation needs.
With an empathetic ear, a skilled hand, and a wealth of knowledge, our Occupational Therapist is your trusted partner on the road to recovery. Book an appointment today and experience a tailor-made rehabilitation journey aimed at restoring function and improving your quality of life.
Request An Appointment
Please fill out this form and
we will contact you about scheduling.


Gg Wing
Professional and the nicest staff ever..clean, socially distanced, no stairs nor elevators, street level. 


Bill Frischling

Great experience! Debbie, Rifka, Leslie, Henry, Denise and Vanessa were all wonderful to work with. My rehab following thumb surgery went very well.