Trigger Point Therapy In Manhattan and Long Island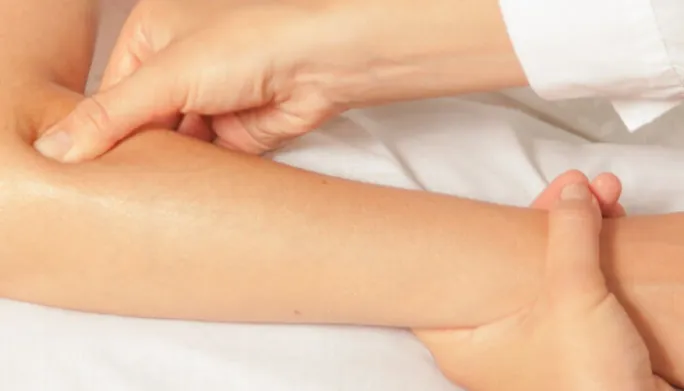 Are you experiencing persistent discomfort or pain in your hands or arms? It could be due to trigger points, which are tight knots of muscle fibers that can form in muscles. Trigger Point Therapy is a specialized form of treatment that alleviates pain through cycles of pressure and release. Our certified hand specialist, with extensive knowledge and experience in this field, can help alleviate discomfort and improve function, allowing you to embrace an active lifestyle once more.
What is Trigger Point Therapy?
Trigger Point Therapy is a non-invasive therapeutic technique used to relieve pain and muscle tension. These "trigger points" or tight knots can develop due to overuse, strain, or injury, and can lead to discomfort, dysfunction, and even referred pain in other areas. By identifying and treating these trigger points, it is possible to alleviate pain and restore muscle function.
How Does Trigger Point Therapy Work in Manhattan and Long Island?
The methodology behind Trigger Point Therapy involves cycles of pressure and release on the identified trigger points, aiding in the elimination of tension and encouraging the muscles to relax. This targeted approach can help to eradicate discomfort and restore a fuller range of motion. Our certified hand specialist meticulously identifies these points, applies the appropriate amount of pressure, and guides you through exercises to prevent reoccurrence.
During a Trigger Point Therapy session, the hand specialist will apply precise, localized pressure using fingers, knuckles, or even specialized tools to alleviate the tension. Patients are also educated on self-care measures and exercises to maintain the therapy's benefits and prevent the recurrence of trigger points.
Why Choose Our Certified Hand Specialist for Trigger Point Therapy?
Our Certified Hand Therapy Specialist not only holds a high level of expertise in Trigger Point Therapy but is also committed to a personalized treatment approach. They engage in continuous education to stay updated with the evolving field of hand therapy, ensuring you receive the most current and effective treatments. With a gentle touch and an understanding ear, they aim to provide relief and promote a swift recovery.
The individualized treatment plan developed by our specialist is designed to meet your unique needs, aiming at not just alleviating the symptoms but treating the root cause of your discomfort. Our clinic's serene environment coupled with the professional care ensures you experience a holistic healing process.
Get the Care You Need in Manhattan and Long Island!
Don't let persistent hand or arm pain hinder your daily activities. Reach out to us and schedule a session with our Certified Hand Therapy Specialist. Experience the healing touch of Trigger Point Therapy and embark on a journey toward pain-free living. Our expert is here to provide the support and professional care you need to recover and rediscover the joys of an active life. Your health is in adept hands!
Request An Appointment
Please fill out this form and
we will contact you about scheduling.


Andrew Hoffman

Friendly knowledgeable doctors and staff.  Fixed my trigger thumb problem that 4 injections weren't able to.  I didn't have to undergo surgery as other doctors said I needed to fix this problem.


POLAND SPRING

Excellent staff and service.